Résumé:
Alice had her whole summer planned. Nonstop all-you-can-eat buffets while marathoning her favorite TV shows (best friends totally included) with the smallest dash of adulting—working at the library to pay her share of the rent. The only thing missing from her perfect plan? Her girlfriend (who ended things when Alice confessed she's asexual). Alice is done with dating—no thank you, do not pass go, stick a fork in her, done.
But then Alice meets Takumi and she can't stop thinking about him or the rom com-grade romance feels she did not ask for (uncertainty, butterflies, and swoons, oh my!).
J'ai vu ce livre dans une liste de livres de YA avec des protagonistes queer et j'ai su qu'il fallait que je le trouve. Je pensais devoir l'acheter (ce que je vais faire quand même d'ailleurs), mais en revenant en Suède après être partie faire ma carte de bibliothèque, je suis tombée sur Let's talk about love dans la partie Ado (et même dans les recommandations, iels sont cools quand même en Suède). J'ai décidé de l'emprunter et quel bon choix ! Je l'ai dévoré et j'avais du mal à m'arrêter (je me suis d'ailleurs couchée trop tard à cause de cela).
Les livres avec des personnages ace (asexuels), ça ne court pas les rues, et encore moins avec un personnage principal.
Alice est noire, elle vient d'une famille d'avocats aux États-Unis, et elle est biromantique ace. C'est-à-dire qu'elle est attirée romantiquement par les gens de son genre et d'autres genres, mais sexuellement par personne.
C'est un roman de Young Adult qui pour une fois suit une étudiante et non un.e lycéen.ne (youpi!) qui se cherche, se découvre.
Le roman présente les questionnements d'Alice sur ce qu'elle veut faire de sa vie, comme métier, sur qui elle est, pour elle-même et par rapport à ses ami.e.s. Il n'y a pas tant de personnages que ça ou même d'actions que ça et pourtant il se passe tellement de choses.
Lorsque l'on rencontre Alice, elle se fait larguer par sa copine Margot qui gagne le bingo de toutes les choses à ne pas dire à une personne ace (Es-tu allé.e voir un docteur ? Ce n'est pas normal. Fus-tu abusé.e sexuellement ? Veux-tu juste ne pas le faire avant le mariage ? – pour en voir plus et avoir les réponses à toutes ces questions, c'est par
là
), le tout arrosé de racisme, parce qu'Alice est noire et donc hypersexualisée (pour plus d'infos, c'est par
ici
) et une personne noire et ace, ce n'est pas possible. C'est le début d'une conversation d'Alice avec elle-même qui durera tout le long du roman sur son rapport aux autres et les relations romantiques possibles lorsque l'on est ace (et c'est possible !).
Mais ce roman parle aussi d'amitiés et des hauts et des bas que celles-ci peuvent avoir. Les personnages de Feenie et Ryan, ses deux meilleur.e.s ami.e.s sont bien développés et ont une place importante dans le récit. C'est la deuxième facette de cette histoire. Les gens grandissent, changent, et lorsque l'on se connait depuis toujours, il est parfois difficile de savoir comment négocier les virages.
Il parle aussi des relations que l'on peut avoir avec ses parents, des attentes qu'iels ont pour nous et qu'on ne remplit pas toujours.
Enfin la troisième facette de l'histoire, c'est Takumi. «
Who the hell is Takumi? »
demande la première phrase du résumé. Takumi, c'est le nouvel assistant dans la bibliothèque où Alice travaille à mi-temps. Takumi, c'est celui qui fascine Alice dès qu'elle le rencontre et avec qui elle va se lier d'amitié très rapidement. Ce roman, c'est aussi leur histoire. Et sans trop en dévoiler, j'ai dû poser le livre à plusieurs reprises et j'étais dans cet état-là :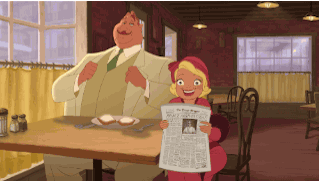 (à un moment, iels se frôlent les doigts et j'ai dû poser le livre. Si ce n'est pas de la bonne écriture, je ne sais pas ce que c'est !).
Bref, j'ai vraiment beaucoup aimé le livre. Je me suis rarement sentie aussi représentée par une héroïne de YA (bon je ne suis pas aussi maladroite en cuisine, je n'ai jamais brûlé de cuisine) et je suivrais avec intérêt ce que l'autrice va sortir comme livre dans le futur.
En attendant, je ne peux que vous recommander la lecture (en anglais) de Let's talk about love de Claire Kann et je ne peux qu'espérer que le livre soit traduit en français pour le faire découvrir aux non-anglophones.